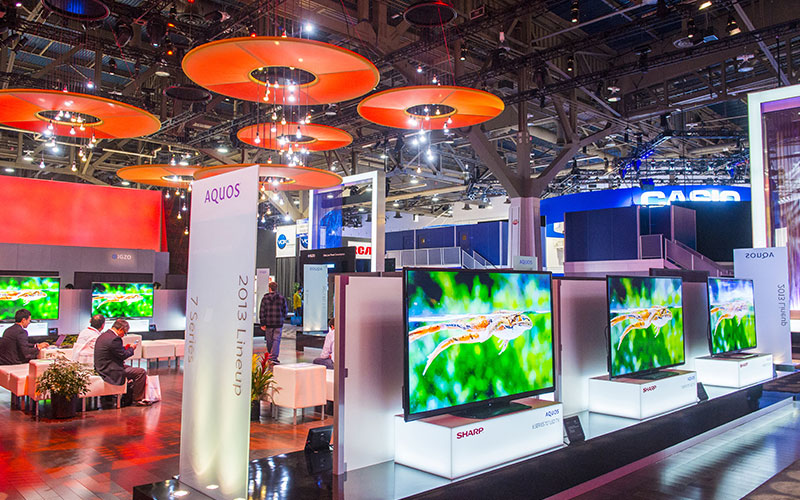 Next week crowds of nearly 160,000 will gather in Las Vegas for the International Consumer Electronics Show which kicks off January 7th. The most innovative electronics companies in the world will be on hand to unveil, demonstrate, and wow attendees with revolutionary new technology.
The best and brightest minds of the largest companies in the world will attend to see what product can steal the limelight with amazing new technology.
This year is expected to be the year of the Big Screens as newer OLED (Organic Light Emitting Diodes) is being adopted by more companies, phasing out the old-tech, plasma screen technology. OLED promises sharper, clearer imaging for video displays. The displays themselves are also getting a makeover as more models featuring curved displays are released.
Prices are going to fall for new releases of older tech, and new innovative releases are expected to be unveiled. Most of the fans of the CES are wondering who will walk away with the most impressive gadget or technology from this years show.
Brilliant is Providing Luxury Transportation at the CES
VIP guests attending CES 2014 are sure to have a great time at the Venetian, the host hotel. The Venetian is a luxury hotel known for it's lavish interiors, special entertainment, exciting nightlife, and, of course, first-class casino.
For the VIPs who are seeking a luxury experience all around, Brilliant Transportation is here to offer you premium chauffeur service for CES 2014 and the entirety of your Vegas trip.
With our expert chauffeurs at the wheel, you're going to make it to every destination on your itinerary on time. Not only that, but while your zipping through the famous streets of Vegas, you'll be in the lap of luxury in our Brilliant Luxury Sprinter vans.
There's much to do in Vegas, and too much traffic to worry about driving yourself everywhere. Call us now for an easy quote and reservation; we'll make sure you're treated like royalty.
Transportation Ideas for you CES Trip
If your traveling party is less than seven passengers, this van is the ultimate in luxury transportation. It features four captains seats that face each other allowing for more intimate travel discussion. The bench seat can fold down into a comfortable bed, which could come in handy for our clients that are flying into LAX and letting us take them into Vegas in style.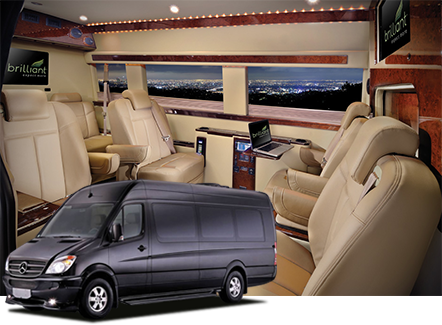 For groups of 9 or less, this van features 9 captains seats, each with it's own set of amenities to make any commute a pleasurable experience. All of your executives can relax in comfort, take advantage of the stowaway desks and power outlets to charge their electronics, or browse the internet and get some extra work done over our high-speed, on-board WiFi.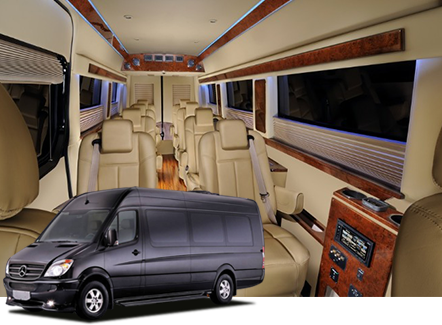 This vehicle is one of our workhorses for events and larger groups. It can comfortably move 14 passengers and also comes with our on-board WiFi options. For groups of 14 or more, booking a few of these vans will keep your group on time, in style, and comfortable as you travel around Sin City.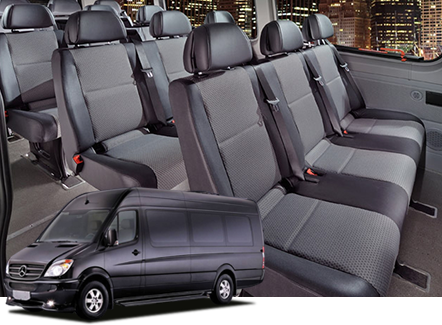 If you have a larger group and are looking to book with Brilliant, we can arrange for any size group. We can arrange for luxury buses, or even fleets of Sprinter vans, depending on your individual needs. Contact us and let us know what you need. We'll get it done for you.
Enjoy CES 2014 Las Vegas
No matter how you get there, it's bound to be an exciting adventure experiencing the technology of tomorrow. Have a great time in Vegas and we hope to see you more in the future.