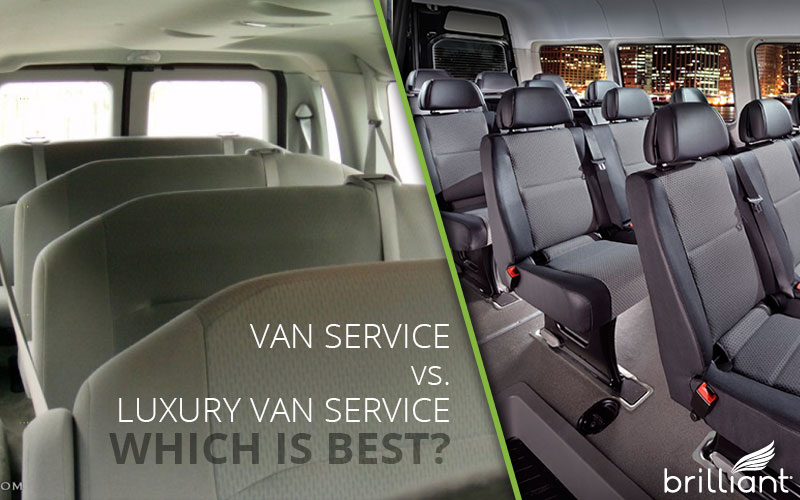 We have clients come to us all the time, wondering what the difference is between luxury vans and limo vans. Some people think of van service as a normal 15 passenger van with a driver, taking them from point a to point b. Then, there are others who want a nice van and think leather seats, and tinted windows are what makes it a luxury option.
At Brilliant, we believe there should be a third option!
However, in order to explain what that third option is, we have to first look at the differences in van service, and luxury van service. A lot of our clients come to us with this question because every limo company in New York and Los Angeles advertise their van service as, "luxury."
The truth is, luxury is subjective, much like the term awesome. Something is awesome only to those who are awed by it, and something is luxury, only to those who think it is.
Usually, limo companies think all their vehicles are luxury. However, to the executive that's used to the finer things in life, wrapping something in leather doesn't make it luxury to him. He expects more, and that's where the differences lie.
What's the Difference? Which is the Best?
As an industry standard, the two, standard options are what customers have had for years. If you need transportation for a small-sized group, you can either get the regular van, or a regular van with leather seats. If you want to pay a little more, you get a more comfortable bench to sit on and, usually, a little better customer service.
What is Regular Van Service?
For the most part, when a limo or transportation company offers a van service, especially for airport transfers, they are talking about regular van service. This is true even if they say it's luxury.
What makes it, technically, regular van service is the use of regular vehicles. Here's a working example from a New York limo company, Six Stars of New York:
They offer a van service in the New York area featuring a very reliable Ford E350 van. The van is black with a nice gray interior, and they give complimentary water and magazines to their passengers. The van is nice enough in appearance to make your group feel like their traveling in a nice vehicle, and Six Star's chauffeurs are very professional.
All in all, Six Stars is a great company with nice vehicles and very good drivers. If you're wanting great service without breaking the bank, or over-paying for your trip, they will make you a good deal. In fact, they're advertising 10% off deals on their website right now.
The thing I disagree with Six Stars about, is their label of the van as "luxury." In reality, it's just a black van. It serves their client-base perfectly, don't get me wrong. And Six Stars adds value to the clients that are looking for that service.
It's worth saying that this isn't Six Stars being dishonest. This is normal industry-speak. When you're booking a professional chauffeur to drive you in a nice, clean van, technically that could be considered luxury. Most, if not all, other limo companies label their regular vans as luxury vans.
But luxury, in my opinion, should be something more. And that brings us to the second option, Luxury Van Service.
What is Luxury Van Service?
Luxury van service, in my opinion, is when a chauffeur company provides not only a professional, well-trained chauffeur, but they also offer high-grade vehicles as well. My favorite luxury van available in the US is the Mercedes Sprinter. It's counter part, the VW luxury van was used as transportation in the royal wedding. If that doesn't let you know, the Sprinters are very nice vans to ride in.
They sport a ton of headroom, enough for most men to stand straight without stooping. This makes getting in and out much easier than passenger vans. There is no crawling involved. At Brilliant, we actually have some of these vans in our fleet, which you can see in the video.
RLM Executive Limousine out of San Francisco offers Sprinter Van Service for their clients. Notice, on their website, it also calls it a luxury van. We're dealing with semantics now, but if real "luxury" is what you're after, a Sprinter van service will provide much more than a regular van, both in style of comfort and better features. Some Sprinters are even equipped with WiFi and DVD functionality.
If luxury van service is what you're after, I recommend using a limousine company that offers the Sprinter in it's fleet. The price will be more expensive than limo companies like Six Stars, but luxury should cost more.
The Third Option: The Premium Limo Van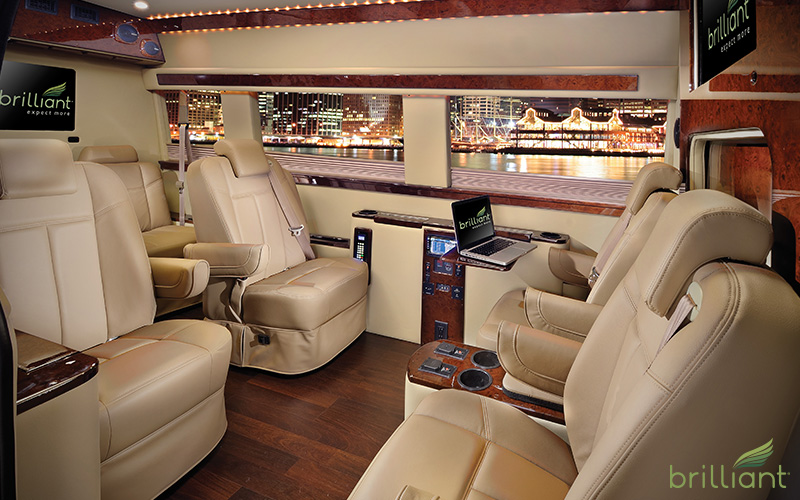 Brilliant was founded on the idea that there was something missing at the top, not the bottom. We were founded on the idea that there was an untapped, third space in the van transportation industry. This space isn't for the crowd seeking leather seats or the luxury label; it's for those who want more than mere transportation.
That's where the concept of our flagship vehicle, the Brilliant Van, originated from; having a vehicle that was worthy of the premium label. When you take a look inside a Brilliant van, you're not looking at normal or even luxury interiors. It's a completely different experience.
Instead of bench seats, there's reclining captains chairs that face each other, each with it's own desk, power footrests, and a fridge. There's not one, but two large-screen televisions each displaying either your favorite movie or 185 channels of DirecTV. There's onboard WiFi and power outlets at each seat allowing busy executives to charge their laptops, and stay productive during travel.
Among a host of other features, the main benefit of the "Limo Van" is not that it gets you from point A to Point B. The main benefit is the premium experience.
We started our company with the desire to create that premium experience, and the birth of the Brilliant van has provided that experience for our clients in Southern California, Los Angeles as well as all over the Northeast from our base in New York City.
Choosing the Best For You
Just as luxury is a subjective term, so is what's best for you. If you're traveling on a budget, you're not going to be pleased with the Limo Van. The price is placed at a premium because it takes a premium expense to provide a premium experience.
But on the same token, going with the cheapest might not be best, even for the budget traveler. Sometimes the upgrade in customer service from regular to luxury is worth paying a little extra for, even if the vehicle upgrade is minor.
However, if you're one of the few who want to know what it's like to ride in a premium vehicle with "mobile butler" chauffeurs, we invite you to experience the third option, The Brilliant Van; or as a lot of people call it, the Limo Van.