Wow! Another year has flown by. Can you believe it is the end of 2013?
Last year, for me, was a blur; largely due to Hurricane Sandy and the non-stop emergency disaster relief support Brilliant gladly provided to LIPA and National Grid as they worked feverishly to restore power and heat to regions devastated by the storm. Technically it was the festive holiday season, but in reality, we worked 7 days a week through every single Holiday. And we did so with pride and pleasure to help our community and serve our clients.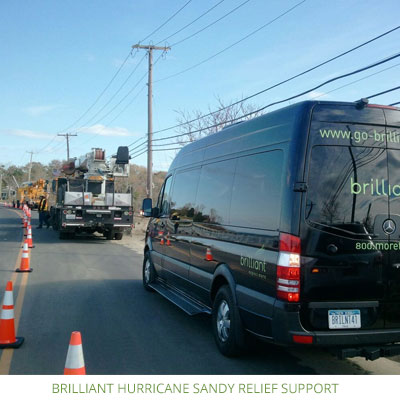 Nonetheless, this year is quite different. And we, at least in the NYC region, have to make up some lost ground and party like its 1999 (love that song!) So, as you prepare to celebrate, let us help you and take all of the coordination, worry, and liability out of your corporate or personal hands.
You go. You party. Celebrate and have a great time. Leave the rest to "Team Brilliant" and rest comfortably knowing we've got your back.
The traditional corporate Holiday party relies on scores of "black cars" - typically Lincoln town cars. But, in our opinion, that is neither fun, nor efficient.
Everyone knows that half the fun of travel is getting there, especially when together. So rather than separating everyone into multiple black cars or taxis, or everyone fending for themselves to arrive on time, hire us to coordinate proper transportation services.
Why not get the party started earlier in one of our custom converted Mercedes Benz Sprinter vans or for larger groups, one of our brand new gorgeous luxury mini buses (we have sizes ranging from 28 passenger to 36 passenger)?
There is something incredibly awe inspiring about seeing a procession of matching black Mercedes Vans lined up in front of your corporate headquarters, hotel, or event location. We've had up to thirty vans lined up for such events and it truly is a sight to behold.
Furthermore, consider wrapping our luxury vans or minibuses with your corporate logo to add that additional personalized touch. We've done this for numerous corporate events and it really elevates the experience. Likewise, if you desire custom food and beverage selections, all you need to do is ask! it would be our pleasure to see your desires come true.
Other suggestions we've seen successfully utilized for corporate events include: filling the vans or mini buses with logo'ed balloons; having hosts, guides, or entertainers inside the vehicles; or even creating a roaming scavenger hunt party. Anything is possible! all you have to do is ask and we will do our very best.
At the end of your corporate holiday party, instead of having a designated employee on "dispatch duty" constantly calling your corporate car service to find out where the missing vehicles are, hire one of our hospitable, and well-trained, on-site coordinators to minimize your headache and let all of your employees enjoy the festivities.
We will have all of our luxury vans, Cadillac Escalades and Mini Buses staged appropriately to arrive as needed and whisk all of your employees home safely and soundly. 

We are event transportation specialists and are hired routinely to handle high pressure corporate events. Let us put our expertise to work to make your corporate holiday transportation flawless. We'd love to help!
---