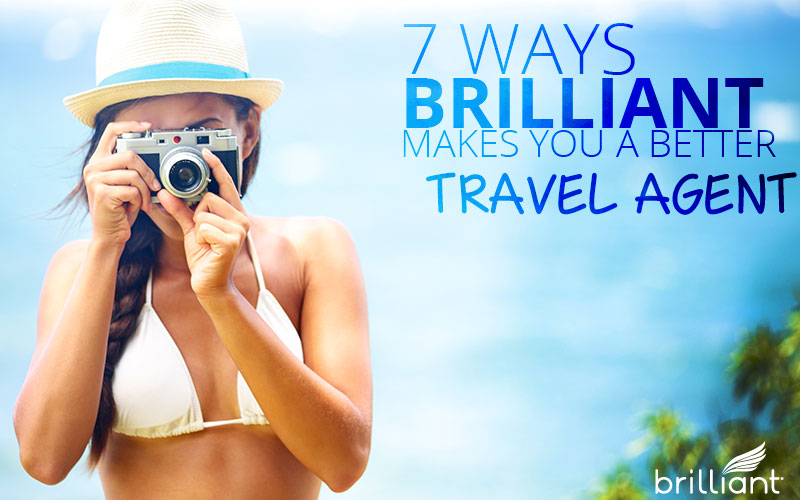 As a luxury travel agent, your reputation is often in the hands of people you don't directly control. Your clients come to you expecting the very best, and you do your best to fulfill their expectations. However, if a cruise line, hotel chain, or transportation company gives them a less-than-stellar experience, your clients' opinion of you will suffer.
That's why the really great travel agents are fiercely loyal to the companies that reliably deliver premium experiences. As a relative newcomer to the luxury chauffeured transportation space, we launched in 2010, we've definitely experienced the angst of travel agents unsure if they want to trust their clients with a new, untested company.
The great thing about Brilliant is that, we understand that. We're not offended when our pitches to top-tier travel agents is met with skepticism. We realize when you're in an industry that is set in its ways, and you want to do things completely different, you have to put your money where your mouth is.
Every single chauffeured transportation company lauds their service over their competitors. We do it too. Every company wants the reputation of doing something different. Yet, most of the uniqueness stops after the marketing message as transportation companies across the globe have become carbon copies of each other. It's a mold that's hard to both break out of, and convince those who haven't experienced Brilliant before that we're actually different all the way down to the tires.
Richard Fertig, our founder and president, recently wrote an article about his exchange with one of the top travel agents in the world. He recounts this exact scenario when he's trying to convey all the things Brilliant does differently to a travel agent who's heard it all before. However, when actual real-life examples came up, the travel agent was remarkably impressed.
With this article, we're going to explain the seven ways Brilliant can make you a better travel agent. Not in offering all the platitudes of excellence while delivering sub-par service. But in offering reliable, every-single-trip, wow factors for your clients. At this level, of course, it's just an article. We could be lying. We could be sharing platitudes and making promises we can't keep.
But if you look beyond the salesmanship and make a call to our office, you'll be greeted by top-tier executives from the hospitality industry, not the transportation industry. You'll be introduced to a new way to travel, a new form of transportation where that is actually a by-product of a focus on serving our clients, your clients.
Read this article then do yourself, and your clients, a favor. Give us a call and learn all the things we've done in real-life to serve and impress each and every client.
7 Ways Brilliant Makes You a Better Travel Agent
1. We're Ultra-Premium in Service and Vehicles
You'll really impress your clients and make yourself look good by using such a ultra-premium service. The style and comfort of these vans is tremendous. Your clients are bound to be delighted. They will think you're a genius for being able to arrange such exclusive, first class travel accommodations. It's luxury all the way. Your clients can travel in the same manner that celebrities do.
2. Our Chauffeurs are Mobile Butlers
With our concierge level chauffeur service and wonderful reliability, you can rest assured that your client's ground transportation needs are covered - in terms of our dependability and our long distance, city to city capability, you can offer your clients a more luxurious and convenient option for getting from place to place. It's a great alternative to taking the train or plane for distances of up to 200 miles. Also, you can depend upon our reservation service to get your trip details right, and we can also many special requests that other limousine services won't touch, like on-board catering. We get it right, and our highly valuable customers appreciate our seamless execution of their travel plans.
3. Experience Brilliant Mobile Living Rooms
Our van's unique ability to act as a mobile lounge for entertaining or as a mobile office makes it the ultimate duel use vehicle, for business or leisure. That gives the travel agent a wide range of options to satisfy their most important clients. Business executives can have a working meeting while they travel. The family can enjoy their vacation while on the way, watching movies or listening to music, etc.
4. We Provide Service to Meet the Need
Brilliant can do group transportation, or individual. Whether you need to move 50 people, or 300, Brilliant gives you the flexibility to plan your ground transportation no matter what size group you have to deal with. Also another nice feature is that we make it easy to reserve our vehicles for multi-day/overnight reservations and events. We offer luxury mini-coaches, and can also expand to include full sized motorcoaches for even larger groups, if you have over 100 guests, this can be the most efficient way to go!
5. We Put Your Client First
We put the client first. We are more than just transportation. We put together a superior customer service experience. Travel agents who are customer centric- (and they all should be, will get this, and get us!) We are not a bus company that just goes from A to B. We are about providing a wonderful, quality experience for our clientele. We are raising the bar for travel and high end travel agents will appreciate this. We have and maintain the highest standards in everything we do!
6. We're On Both Coasts
We are bi-coastal in two of the largest transportation markets in the world. Travel agents can book our service in both Los Angeles and New York. We don't have the reach of some large company in 100 different locations, but that's not necessarily a bad thing. We are still a custom, boutique service and our clients really appreciate our individualized focus on them. We are also still small enough of company that our employees really care about our clients, and when possible and where appropriate, try to create an authentic, personal connection. That's not something you can expect from a mega-corporation.
But although we're small, we have impact because we're in places that matter. The movers and shakers of the world who love to use our service frequently inhabit the worlds of LA and New York. And using those two locations as hubs we can also reach some of the most important other destinations in the Northeast and the West Coast.
Manhattan, Boston, Hartford, Philadelphia, Newport, the Hamptons, Providence and Washington DC are all an easy 2-4 hours away by Brilliant Van.
On the West Coast, San Diego, Palm Springs, Santa Barbara and San Francisco/Napa/Bay Area are all just several hours away. That's all just to say that even with only two locations, we can still reach many of the nation's most popular tourist and business centers.
While you won't be traveling at jet speed to reach these destinations, you'll be doing so in much greater comfort and control than if you took an airplane. Plus, you have the flexibility to make unscheduled stops and see interesting things on the way. Sometimes, if you're willing to take just a little extra time, the journey can become more important than the destination.
7. We Focus On Relationships, Not Transactions
We are in the relationship business too. Good travel agents understand their business is all about cultivating relationships. There is such a plethora of travel and booking websites, it's easy to think that travel agents have become redundant.
But quality agents understand that in this age of mass travel and mobility, the personal relationship have become more important than ever. For those who don't want to travel like everyone else does, the key to creating a delightful travel experience is to focus on what's unique and special about each individual place and each traveler.
That's exactly how Brilliant Transportation views travel. We're not in the transportation business, we're in the experience business. People use our services because they're tired of the same old methods of transportation that everyone else is using. Our clients would rather have more class, more convenience, more luxury and more privacy.
That's what private motoring with Brilliant will afford, a bespoke travel experience that you won't soon forget. So you see, for the travel agents who focus on the upper tier of the market, we're on your same wavelength. We get what you're trying to do and we just know that your discriminating clients will simply love our service!