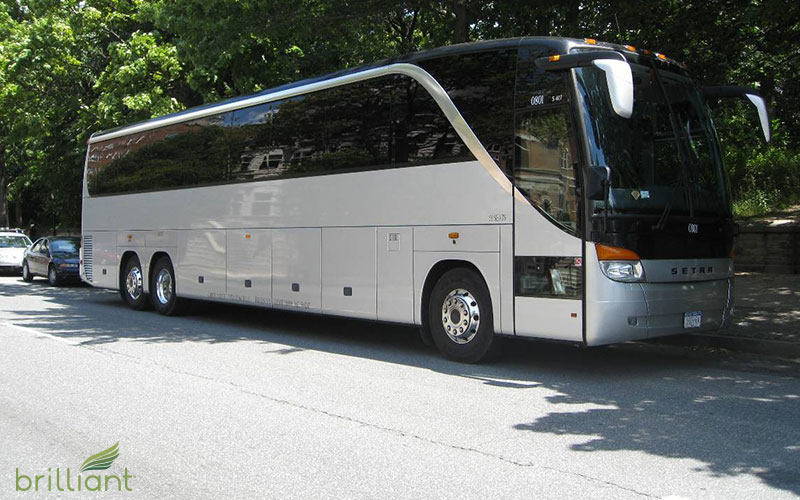 More and more companies are jumping on board and providing transportation for their employees, especially in the dense population centers in major cities. The benefits of corporate transportation in cities such as New York are numerous, both to the employees and the corporations they work for. It's also a boon to the environment, allowing for the same benefits of public transportation but on the company's schedule and management.
At Brilliant, we're approached by corporations and small business alike asking for the best way to provide transportation for their employees in New York. While our luxury minibuses and executive Sprinter vans serve this purpose well for a good number of companies, less than half of those who approach us are a good fit to do business with us. There's several reasons we aren't the perfect corporate transportation service for most companies, mainly dealing in the cost.
For that reason, we're writing this article to explore the things we've found impact the cost of providing corporate transportation for employees, and some suggestions on companies that may be able to provide you with great corporate transportation service if we're not a good match for your company.
Pricing Corporate Transportation in New York City
For each company, the costs will fluctuate. For most limo companies, the formula for the price of each shuttle service is the hours the vehicle will be in use. Companies on the higher end, like Brilliant, often will plan for more than simple shuttle service, providing more perks to your employees and working out a contract price quote for each company's unique situation.
If you're seriously considering providing your employees with transportation, or even your executives, we recently published an article on how to provide premium transportation for your employees in New York. You may be interested in reading that article to learn more about the things we've found can impact this service.
However, for both the budget, hourly companies and the premium contract companies, there are common variables that will impact the cost. We'll take a look at these four common variables and make some recommendations of companies that may fit your company's needs perfectly.
How Many Employees Will You Provide Transportation?
While this is not a ground-breaking, revelatory variable, it's not as simple an equation of how many employees you have. This is especially true if you have a larger company. The issue with ground transportation for companies in New York is pickup and drop-off locations.
Some smaller companies that are providing transportation for executives have their corporate transportation pick each passenger up at their home location or hotel. Larger companies stage pickup areas at certain locations across the city.
If you're company is providing transportation for less than 30 employees, your corporate transportation provider should be able to offer a concise plan for pickup and drop-off locations based on the neighborhoods your employees live in.
What Types of Vehicles Will You Provide For Employee Transportation?
This variable ties right in with the first. How many employees will be riding impacts the choice of vehicle. However, vehicle choice goes beyond passenger count. At Brilliant, we provide high-end luxury vehicles, even our minibus fleet and our larger coaches are luxury-class vehicles. The companies that use us for their corporate transportation like the fact that their employees will be pampered in high-end vehicles. This type of transportation makes every employee feel like an executive but, at the same time, comes at a premium price tag some companies simply can't afford.
If your company is transporting more than 35 employees, you could be looking at multiple vehicles or even large buses to move them all. For smaller counts, multiple smaller vehicles can provide more timely transportation with less stops per trip. Other transportation companies can provide factory minibus and motorcoaches for employee transportation. They are cheaper than the premium service provided by Brilliant at a trade-off of employee experience.
Travel Distance for Employee Shuttle Service
In New York, travel times and miles can add up quickly. If the commute is a long one, it will definitely add to your cost both in the number of vehicles needed, and/or how many trips they have to make. Longer distances mean slower turn around times for multiple trips and could mean you need more vehicles. At the same time, more vehicles traveling farther can drastically drive up the cost of providing such a service.
Corporate Transportation Budgets in New York
The budget your company is working with will largely determine the type of service you provide for your employees. The best way to get the best service for your corporate transportation needs is to approach multiple companies with answers to the previous variables, and present them with your budget, asking them to provide a plan to fit within it.
Then, it's up to the transportation companies to come up with a plan to meet your exact needs. If a company can't meet your requirements at your budget, they can give you an estimate for their services. This will allow you to re-evaluate with more information.
Choosing a Corporate Transportation Provider in New York City
All of these variables impact each other, and are only a handful of the issues you may face in providing corporate transportation for your employees. At Brilliant, we take care of everything from planning the routes, to giving a concise strategy to provide timely transportation for your employees. Other companies may not offer this level of service, but may be much cheaper than Brilliant.
If your budget precludes you from working with us at Brilliant, and for a lot of companies this is the case, hopefully this article will give you a head start on the things you need to think about before you approach a corporate transportation provider.
Again, we would love to serve you and provide the highest quality transportation for your employees. However, if we're not the best fit for your company at this time, these four companies are experts in the field and may be able to meet your budget. While we have no problem recommending them, they are not all equal and each company meets the needs of clients differently.
Rather than just picking a company and going with them, I would do a consultation interview with each company to gauge their customer service level and expertise for meeting your specific needs. When you're talking about your employees getting to work, you don't want to offer a service that is going to make them late, get lost, or be unsafe.
The best practice is to thoroughly vet each and every company and go with the one that is the most competent in meeting your requests; even if that company isn't the cheapest. In the long run it will save you time and frustration. If you're interested in working with Brilliant you can submit a quote request online, or call us at 800-543-1001.