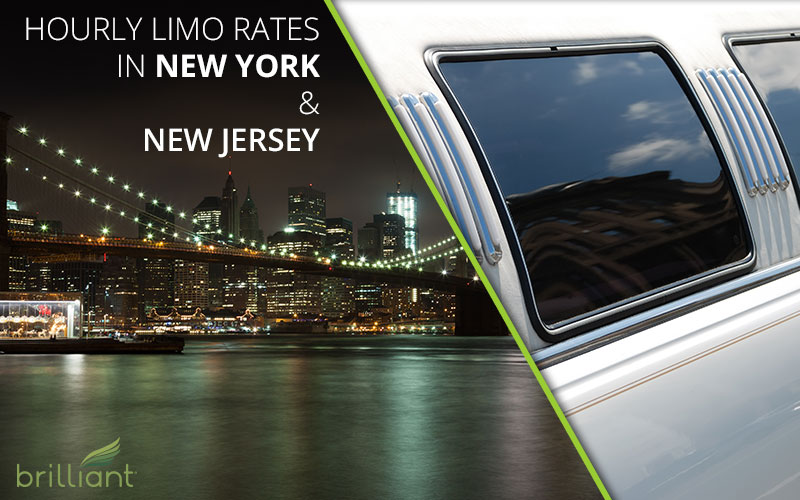 If you're searching for a limo to rent in New York City or New Jersey, most companies charge by the hour. Renting a limo isn't a difficult thing to do, and prices range from cheap to expensive. Depending on the quality of service you desire, the hourly rates for a limo rental will be impacted.
At Brilliant, we provide the highest quality limo service for the most influential clients in the New York area. We aren't a good fit for more than half of the customers that contact us. Our pricing is premium as our quality of service and vehicles is beyond compare in the world. For that reason, most people simply can't afford our level of service.
At the same time, we appreciate all customers looking for a luxurious limo service, regardless of budget. So we're writing this article to explain the hourly limo rates in the New York area, and make some suggestions of companies that can match most budgets.
How to Find the Hourly Price of Limos in NYC
All limo companies are different. The easiest way to explain the variations of quality in limo services is to compare it to the hospitality industry. Most people understand the difference in the Waldorf Astoria in New York and the local Motel 6. Both technically provide the same service, and both meet the needs of their clientele. However, they both offer extremely different experiences for their clients.
Limo companies are the same way. You can find a limo that fits your budget, sometimes for the same price as a taxicab. But, if you want the premium, high-end experience, the pricing will increase. The quality and cleanliness of the vehicles will increase with price, as a general rule, as will the level of customer service you're afforded.
How Hourly Limo Rates Can Impact Customer Service
Like many travelers, I recently booked a trip with a limo company; looking for the cheapest to save a little money in my travel budget. Not only was my limo driver 30 minutes late, but he failed to give me a receipt before hopping back into his vehicle and speeding away. Usually this wouldn't be a big deal, so I called the company asking them to e-mail me a receipt for the trip.
This is where the cheap limo service came back to bite me. They requested I call back the next day, once I arrived at my final destination. I didn't think this was unreasonable as the drive may have to turn in the actual paperwork. The next day, when I called back I was assured I would receive the receipt momentarily. It never arrived.
Calling again, I was for a second, and then a third, time asked to call back later to talk to someone else. When I finally asked why it was such a difficult thing to get a receipt, the "customer service" agent responded with a huff to give her 5 minutes. 5 Minutes later, I received a receipt in my e-mail box. The file name had my name attached but the receipt was for someone completely different and about 3 times the amount I had paid.
Long story medium, I eventually got my little receipt along with a strong desire to never hear of that company ever again. The point of the story is, for a cheap company, this level of service is perfectly fine. In fact, complaining to management probably wouldn't have changed a thing. I accepted this service because of the low price tag. If I wanted quality, there were other services out there but I would have to pay more for them.
If you're planning just a short shuttle or point-to-point trip, and your schedule isn't important, going cheapest can be an okay experience. It's still a limo and it's not expensive. However, if you want high-quality, a good experience, and reliable punctuality, the hourly rate will increase.
Additionally, if you require extra services such as Meet and Greet in the airport, you can expect to pay a fee for that. We've actually written about that in our recent article where we review the best limo companies in New York that offer Meet and Greets.
How Vehicle Quality Affects Hourly Limo Prices
Although quality of service, in my opinion, trumps vehicle quality, that's not the case for many travelers. If you're booking the limo for an event or wedding, the style and quality of the vehicle is of utmost importance. What I've found is that quality customer service is usually attached to higher quality vehicles in just about every case.
However, one company can offer a range of different vehicles, even in the stretch limousine or stretch SUV categories. If you book a Cadillac, you'll probably have a cheaper hourly rate than renting a Mercedes limo. The same goes for the age of the vehicle as well, and the cleaning practices of the company.
At Brilliant, we keep newer vehicles and we completely detail each vehicle between each and ever booking. This ensures our clients receive an immaculate, spotless vehicle on every trip. Budget companies may not be able to provide this level of cleanliness because they usually send a vehicle from one booking straight to the next, booking as many trips a day as possible with the same vehicle.
This cuts their expenses and improves their profit margin. Again, this is not a bad thing as it serves a certain market demographic who prefer bargain over value. When a company competes on price rather than value, their value will inevitably take a back seat to cost-cutting procedures.
This is why, at Brilliant, we don't discount our prices. I've talked to many customers who've asked for discounted prices and they are always surprised to discover that we don't barter with our hourly rates. To us, offering the best value to our clients is more important than offering bargains and falling into the trap of competing on price. We've even written an article on why we don't compete on price, which is a good read.
Hourly Rates for Limo Companies in NYC and NJ
We would love to have your business at Brilliant. However, we understand we can't fit every single customer's needs. If you're interested in booking with us you can get a quote online. If we're not a great fit for you at this time, this list of companies in the New York/New Jersey area might be a better choice for you. Just remember, don't choose on price alone. Make your decision based on the level of customer service you receive as you vet each company.
Cheap Limo Services in New York City
Cheap NY Limousines
Royal Luxury Limousine
Limo Budget
Median Priced Limo Companies in NY/NJ
New York Town Car
Avis Limousine
NY City Limo
Premium Limo Companies in NYC
Luxor Limo
Manhattan Limo
Gem Limo