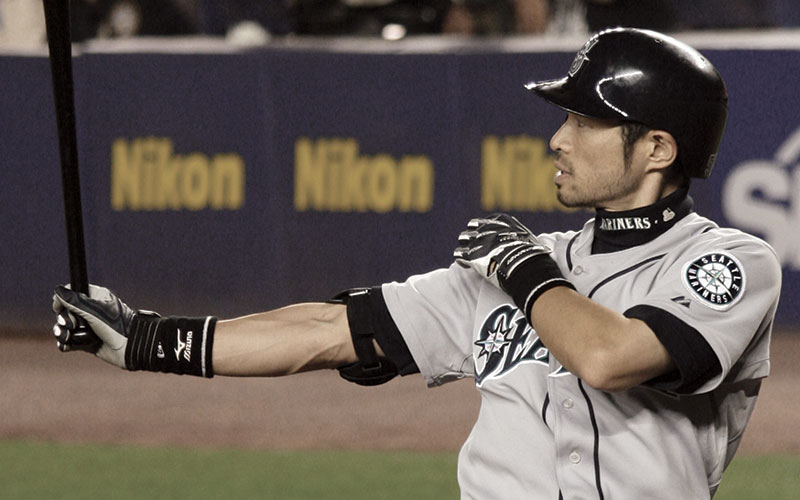 When he was a young boy in Japan, baseball was his passion. He had a problem, though. He was too small to hit the ball with any power. His father took the little boy and taught him a new way to bat. Rather than the traditional batting stance, he learned to twist his body in such a way as to uncoil, allowing him to put all his weight behind the swing. He quickly improved in both hitting ability and power.
As an impressive player with lightning speed, his coaches were still unimpressed with his unusual swing. They determined before he would ever become a successful ball player, he would have to learn how to swing like everyone else. Finally, after trying unsuccessfully to adjust his stance, the frustrated young man brazenly told his coaches, "when someone else on the team can hit better than me, I'll change my swing." The coaches agreed and he never had to change his stance.
Today, Icharo Suzuki is known as one of the best hitters in Major League Baseball history, passing 4,000 hits in 2013. His ability to hit, even with his unorthodox swing, has caused some in the sports world to label him the best hitter ever.
What if he had conformed?
In all walks of life, and in all cultures, the conventional way of doing things has been synonymous with the best way of doing things. If someone does things differently, no matter their success, it's not uncommon to want them to conform to the way we've always done things.
Those who stick out with great success are always the ones who did something different; something beyond the conventional. Icharo's success is attributed to the very thing the "professionals" said would be his downfall.
It's no different in business.
One definition of insanity is doing the same thing over and over, expecting a different result. You can't expect companies to do the exact same things and expereince different results.
When I joined Brilliant, one of the things that intrigued me about the position was the focus on being different; on avoiding the rut of convention. A lot of companies are investing tons of money, and countless man hours going through paid focus groups to try and come up with a business plan that will bring them more clients. They invest millions on getting a clients perspective for the end-goal of getting more of them.
The nice thing about being founded by a client, is the idea that things need to be done differently. Why do we need another player in the chauffeur service business if they're just a carbon copy of the others? For some reason, business models have resulted in cookie-cutter companies; all doing the exact same thing, just with different names and different faces.
Why I wouldn't work for a transportation company
As a marketer, joining "just another company" would be off my radar. It's a losing battle, spinning in the same mud puddle as all the other tadpoles, hoping clients choose you on accident, or if the prices can dip low enough to entice a buy.
Another reason I would hate working for a transportation company is the minimal client pool. Working for SaaS (software as a service) companies in Seattle, it's easy to drive thousands of visitors to a site every day. When it comes to localized transportation, the pool of traffic to pull to a site is minimal, making traffic growth much less exciting than blowing up huge numbers.
A Different Kind of Company
The reason I came to work for Brilliant was because of that special something. That exciting spark and willingness to do things different than everyone else; to try things no one else would try. It's a company that is dedicated to being the best, and doing the best, across the board. This includes internet marketing.
I'm not working for a transportation company. I'm working for an inbound marketing company that also provides premium chauffeur service.
Our chauffeurs aren't mere drivers, they're mobile butlers; catering to our clients like no other chauffeur service can.
Our sales division isn't made up of sales professionals. It's made up of customer service professionals; focused on meeting the clients needs rather than earning commissions.
That's what makes it exciting!
Brilliant is the purple cow of the transportation industry. We're the little baseball player who's swing is so unorthodox it makes industry veterans shake their head while the stats keep piling up.
I've been a member of the Brilliant team for a few months now and the best part about it is being part of a team that's first instinct isn't to do things like everyone else. What makes me excited to go to work every day is knowing today, I get to be a part of something different. Something brilliant.